Whitewater Kayak Ecuador & Peru
Looking for an authentic whitewater experience? Come paddle with us....A pro guided trip with experienced instructors, excellent food and cozy accommodations. Get fully geared up with the top of the line whitewater kayaks and all the fixings. Enjoy the culture and wet your lips to the delicious cuisine. The music and sights will fullfill your expectations and your memory card.
 Our goal is to provide a worry free and safe experience with maximum
paddling and luxury in mind. Spend days paddling the continuous and
scenic rivers of Ecuador while being treated to first-rate
accommodations and cuisine.
Let our professional river guides take
you on an experience of a lifetime and take away all the stress of
shuttles, river beta, and everything in between.
All you have to worry about is making that boof
stroke on the river. From morning to night we are dedicated in making
your experience fun filled and memorable.
2009 season will start in November and will go all the way through February. You can check for availability for dates at anytime.
The rivers: We have it all ... the high concentration of rivers in such a small area makes of Ecuador the white water capital of the world, considered one of the top 10 world class destinations. we have something for everyone, from beginners to experts, we will start you with some nice warm up sections and then according to the paddler level we will move up. You will find Pristine, clean,
round boulder gardens, endless fun,  and for those who want to step up to the next level we have very nice class V runs. There are so many rivers to choose from, once you are down here, it's just amazing, and all depends on the amount of precipitation. We don't worry about not having enough H2O, we are usually more concerned about having too much H2O!! We have 3 main drainages that we pick runs from with several rivers to run in each of them. And there are ones that have not ever been mentioned in books, web or anywhere... the hidden gems of the Andes mountains. If you would like more information visit www.EcuadorPaddling.com
The Menu :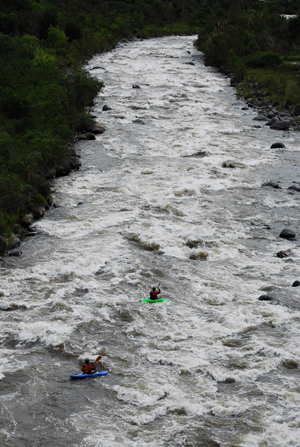 Rio Quijos, Class III-V
Close to the town of Baeza, the Quijos starts out technical and steep and quickly grows in size as feeder streams pour in out of the Andes. The majority of its runs are located upstream of 475-foot San Rafael Falls, one of the biggest waterfall in the country. The river's lowest run starts a few miles below the falls and involves a two-hour walk for a three-day Class III-IV wilderness run. In all, the river offers about 100 miles of whitewater offering several runs. All of the river's runs have good access. Most of the bigger-volume sections below the confluence of the Rio Cosanga have great play spots and are pool/drop in nature.   
Rio Papallacta, Class V
The head waters of the Quijos. Fun and more fun as you drop farther into the canyon.
Rio Cosanga, Class III-IV+
This river is south of Baeza on the way to the jungle town of Tena. It's best to catch it when it is
flowing between 400 to 1,800 cfs. There are three runs on this river, including a hard-to-find section just above the town of Cosanga. The lowest and hardest section of the river starts off with a bang, with the most difficult rapids coming in the runs first half mile. As with most rivers in the area,there is also the possibility of another run higher up the same drainage. 
Rio Oyacachi, Class IV+/ V
This river flows into the Quijos from the west and is a continuous, technical, clear-water run. Even when the Quijos is a muddy mess, this stream  remains pristine; probably because its watershed
remains relatively untouched. It can be boated from 200 to 2,000 cfs. The entire run from the town of Oyacachi was first done in 1997 and very seldom repeated since then. This is a very remote and difficult 3 day run starting high in the Andes and ending up at the Rio Quijos. The normal run is a fun Class IV+ section above the confluence of the Rio Quijos. It has beautiful, clear water with big, granite rocks and continuous technical rapids. Other creeks in the area also have been boated, but they are small, have poor access and are only runnable when there is 'just the right amount of rain.'
Quijos Valley to Tena
Rio Jondachi, Class IV-V
Running out of the Macaw mountains off the flanks of the Sumaco volcano, the Jondachi offers the most fun continuous,creek-like kayaking and has become one of the Classics.  It has two sections divided by a bridge. The upper section is more difficult of the two. Though both sections have a remote feeling, the upper portion is next to be dammed unfortunately. 
Rio Hollin, Class III-IV+
The Rio Hollin starts out small with a creeky feel,but it can be a raging torrent by the end of the two-day trip if it's raining. Be prepared for water levels of all walks, and don't be lulled by the river's initial creekiness. Though the run doesn't have many places to camp, the ones available are beautiful, offering everything you would expect from a jungle campsite. Most campsites are close to the water, so if it rains be prepared to retreat to the rain forest to escape high water. Above the put-in are a few waterfalls that have been run occasionally, but most paddlers stick to the tried and true section. The run's highlights include a 10-foot waterfall and the chance to paddle a Class IV rapid through a cave.
Tena Area     
If you're looking for hot weather and warm water, this is the area for you. The rivers here fan out around town  makes the Tena area one of the country's most popular regions for warm water kayaking.
Rio Misahualli, Class -IV/IV+
The upper runs on the 'Meesh' are steep, tight, round boulder-choked and technical--you need to have your wits about you to tackle them. You can boat above the end of the road but it is a short muddy walk worth to take for a couple extra miles of fun.  Below Tena, the Rio Hollin joins the Misahualli and the run becomes a Class IV big-water, pool-drop river with lots of playing, wonderful rain forest and one tricky portage. The river offers boatable flows of between 200 and 7,000 cfs.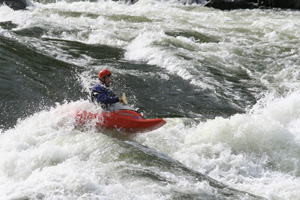 Rio Jatunyacu, Class III
As with your first glance of
19,347-foot Cotopaxi outside Quito, your first impression of the Class III Jatunyacu is that it is big. And it is--it's one of the largest-volume rivers you're likely to paddle in Ecuador. Catch it at high flows and it will take on a Grand Canyon-like feel. But don't be alarmed by its size; the rapids are spaced out and most have very clear channels. And the river's beauty matches its size, with great views of the rain forest, Andes, and riverside villages. Rio Anzu, Class II-IV The upper portion of the Rio Anzu is hard to find, but when you do you'll be rewarded with a great Class IV paddle. This river gets easier the lower down you go, with the lowest run offering a few miles of Class II before mellowing out and joining the Jatunyacu near Puerto Napo, forming the mighty Napo river, one of the main rivers that lead to the Amazon.
Piatua River class III/IV
Another classic, pristine clear water, very remote, runing through virgin jungles, this river is a gem of the Andes east slopes, one of the most beautiful rivers around.
Baños Area: At 6,000 feet, this part of Ecuador has a special feel; the water and air are cooler than in lower-elevation parts of Ecuador, and there are fewer bugs.
Steep mountains, lots of water, makes this area unique, when talking obout class V.
Rio Topo, Class IV-V
This run is closer to Baños than Tena and offers along day of powerful, technical rapids. It was first run by Gynner Coronel and Jeff Pflueger and has since emerged as one of Ecuador's classics. For the most experienced paddlers just a endless sourse of challenging rapids.
Rio Chico Verde, Class V
There is the upper and the lower, having the lower being more steep and technical than the upper section with big drops and waterfalls.
Rio Esctacias, Class IV-V
Steep and technical, low volume, jungle feel creek.
Rio Zuniag, Class IV-V
Just another great run, short and fun, makes a good warm up for class V.
these are just a samppler of the runs we have to offer, there is many more rivers to take you, just call us and let us know what will be your preference. Also the Coast offers  some amazing surfing, with in a few hours from Quito.
Who we are: We are a group of professionals in the
outdoor industry. Chris Jonason has been in the water for  over 28 years
and is been an outfitter for over 24 years, ACA instructor educator and Rescue 3 international
instructor trainer. She was one of the first to start paddling the
region with Gynner Coronel when he started Rios Ecuador (Ecuador's main
rafting company). We will be doing rescue classes as well as
kayaking tours.
Abe Herrera ,ACA
kayak and raft instructor & Rescue3 international instructor,
native from Ecuador, these rivers are his playgrounds.