About Us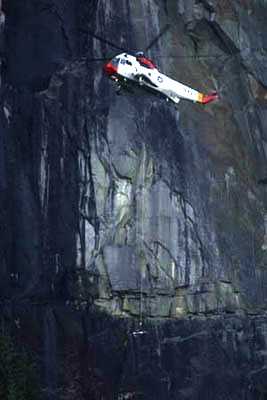 About Wave Trek Rescue
Wave Trek Rescue Mission
Wave Trek Rescue is the first regional training center for Rescue3 International  and strives to stay abreast of the dynamic field of swiftwater and rope rescue and to share that information with our students to prepare them for situations in their professional or recreational endeavors. Our courses are NFPA compliant. Whether it is swift water rescue, rope rescue, technical animal or motorized boat handling WTR has a course for everyone.  First and foremost we want students to learn how to think about, assess, and approach swift water rescue, rope rescue, and all technical rescue scenarios with the least amount of risk and most amount of benefit possible. We integrate advances from many fields to present our students with a diverse "toolbox" they can draw from when confronting new rescue challenges. Regardless of whether we are instructing recreational boaters or trained rescue professionals the dedication to river and vertical safety principles is the same—the only worthy platform for a rescue is one in which the safety of the rescuer and his or her team take top priority.
Location
Our facility is located in the town of Index, WA, in the foothills of the Cascades on US Hwy 2. We are approximately 1hour and 20 minutes NE of Seattle and about 2 hours west of Wenatchee. Index sits at approximately 600 feet elevation and is the put in of the widely known "Boulder Drop" run on the Main Skykomish and the take-out of the North Fork Skykomish run. Directly across the river from our facility is the "Wall", a popular destination for climbers in the area.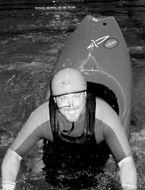 Ryan Murphy
Ryan Murphy is the new owner/operator of Wave Trek Rescue after being brought in by Chris to take over. Ryan started teaching for Rescue 3 Int. in 2005 and started working with Chris in 2003. Ryan worked for the military for 8 years training SERE Medics and Cadre in Swiftwater and Technical Rope Rescue, while also holding the job of Assistant Director for the Outdoor Rec. program and responsible for the commercial rafting, climbing,kayaking, and other outdoor adventure programs. His experience started with his first job as a climbing tower safety instructor at Boy Scout Camp back in 1994. Being an avid rock climber and ropes course facilitator give Ryan more tricks in his bag of teaching tools. He is also a ACA kayak and rafting instructor. Logging river miles all over the western US and British Columbia have helped with gaining experience and practical knowledge of how to get things done. Ryan's experience also include attending The Evergreen State College where he earned his Bachelor of Science in Watershed Studies and River Habitat Analysis. Taking his passion for the environment and teaching Ryan brings a unique skill set and diverse background of knowledge and river experience to his classes, creating a fun and safe learning environment for students of all ages and skill levels. He also is a volunteer EMT and Tech Rescuer for his local fire department Snohomish County Fire Dist. # 28 at Station 55 in Index, WA.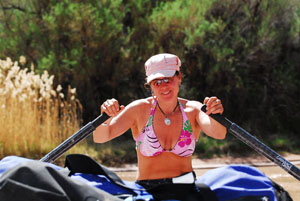 Chris Jonason
Chris Jonason, resident expert and Instructor trainer of Wave Trek Rescue, has been involved in river and swiftwater rescue for the majority of her life. She owned and operated Wave Trek Inc., a rafting and kayaking company, very successfully for 26 years before she sold it to focus her energy exclusively on the rescue field. She has been rafting since the early 1980's in Washington, and all the United States as well other rivers around the world, including rivers in Africa and South America. She is an Instructor Trainer for the ACA in rafting, kayaking, and rescue in addition to being an Instructor Trainer for Rescue 3 International in whitewater and high to low angle rescue. Chris is involved in developing risk management for other high adventure recreation companies and organizations, rescue consulting for other companies and agencies, and has written curriculum for Rescue 3 and the ACA. Chris has also spent much of her life dedicated to the service of horses, be it training, shoeing, development, or rescue. She has a dynamic teaching style that make's her expertise and years of experience accessible to and rewarding for all students, be they a novice rescuers or veteran professionals on the fields of swiftwater rescue, technical rope and animal rescue.
Additional Staff:
Katrina Murphy - Office Manager
Company Info
General
Wave Trek Rescue is a small owner-operated company with a tight knit team of water and rope instructors . We offer a wide variety of rescue classes and courses  throughout Washington and the Northwest, beyond that keep us busy throughout the year. We do our best to make ourselves available to our students and clients to answer questions or help in any way we can. If however, you are unable to reach us at a given time for whatever reason, you can rest assured that we will get back to you as soon as we possibly can.
Billing
Private Party/Individual Billing: We ask for a 50% deposit on the cost of course to secure your reservation if the booking is made more than two weeks prior to the course. Payment can be made by credit card, check, or money order. The remaining balance is then due in full two weeks before the start date of the course. Unless specifically directed otherwise, we will automatically charge the remaining balance to the credit card used for the deposit two weeks prior to the course.
Company/Agency Billing: We are more than happy to invoice your company or agency if they are paying for the training. Please let us know at the time of your sign up that you need to be invoiced, and be sure to include the mailing address and fax number of where the bill should be sent, a contact person for accounts payable, as well as any purchase order number that needs to be referenced for billing. For invoicing courses we ask for the full amount instead of a deposit to cut down on paperwork and time lapse until payment.
Cancellation/Refund Policy:
If you need to cancel for whatever reason, you may do so two weeks or more prior to course and we will refund your deposit except for a 10% (of the total cost of the course) cancellation fee. There are no cancellations or refunds within two weeks of the start date of the course. It takes a lot of staff preparation as well as acquisition of course materials to get ready for each course and we appreciate your understanding of our policy.
Safety Awareness & attached Waivers:
Please read and fill out appropriate waivers in full. We at Wave Trek Rescue have safety at the forefront of everything we do, and you can be assured that we do everything within our powers of planning, assessment, and operations to ensure a safe and fun experience for all of our students. Our waivers acknowledge that despite all of our efforts, experience, and skills, accidents do happen. Rescue training and related activities have inherent risks that each participant must be willing to take personal responsibility for.
Download Waiver's